Have you ever bothered by smelly regular kitchen sponge? If so, our convenient and hassle-free Kitchen Soap Dispensing Palm Brush will definitely give you a brand new experience. Hurry up and give it a try!
 HEAVY-DUTY SPONGE SCOURER 
Our Palm Brush is rust-resistant, scrubs away stubborn stains, grease and grime that built-up over times. Effortlessly cleaning kitchen appliances, dish containers, well. Great for automobile, household equipment and commercial as well. The brush is really gentle on your hands, so it will not harm or scratch your skin. Easy to clean, built to last a long time and dishwasher safe.
100% PREMIUM QUALITY, NO MILDEW SMELL, ANTI-BACTERIAL
Our brush is designed to be better than traditional dish sponge in any way. It is safe and resistant to bacteria without unpleasant odor.
NON-SCRATCH, PREMIUM NANO FIBER MATERIAL
The new stainless-steel-like PET Soap Dispensing Palm Brush is safe and gentle to use on almost all kitchenware, including cast iron, non-stick pans and pots, glassware, plastic Tupperware, and many more.
BUILT-IN LIQUID STORAGE TANK
For cleaning, you only need to press the top soft part to discharge the detergent. Easy and no waste.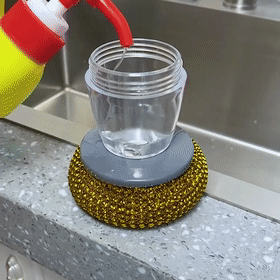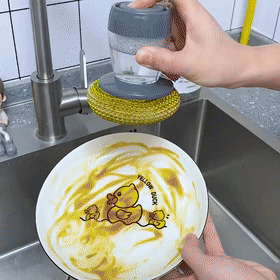 SPECIFICATIONS
Material: PET/ stainless steel
Application: Washing kitchenware, oven stoves, wash basins and ceramic tiles
Product Net Weight: 80g
Product Size: 10*9cm
Free shipping is available on this product. Due to the high demand, The typical delivery time frame is between 6-22 business days. Depending on your location, you may receive items much earlier. Express Delivery Option is available.
All orders are shipped with a tracking number so you can track them at every step of the way!
this works really well for the sudsing effect but there is one thing the bristles with the length they are it makes it a little on the soft side to be used for any scrubbing of maybe pots or something so it's a little soft for doing heavy scrubbing of any kind but you could use it for something that might scratch kind of easy this most likely would not scratch
Beautiful and comfortable
}